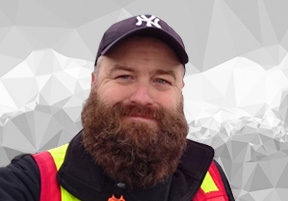 ANDY RANDELL
  EXECUTIVE DIRECTOR
Originally from the United Kingdom, Andy graduated from the University of Wales, Cardiff, with a bachelors degree in Environmental Geochemistry in 1998. Following this, he worked for the Senckenberg Institute in Frankfurt, Germany, collecting fossils from the world famous Messel and Enspel sites. Andy then returned to the UK during a downturn in the exploration industry, driving him into the world of finance. Initially working for Legal & General, he eventually moved on to Scottish Equitable as a financial advisor, gaining valuable, transferable skills.
Determined to return to geology as a career, his break came in 2007 when he was offered a contract to work as a Junior Geologist for StrataGold on their Guyanese operations. In 2009, the company was taken over by Victoria Gold Corp,, and was moved onto the Eagle Gold project in the Yukon. As Project Geologist, Andy undertook exploration drilling to advance the site through its pre-feasibility studies. In 2011, he was headhunted by Ryan Gold Corp., initially employed as a Senior Geologist then the Chief Geologist for their Yukon Portfolio.
He established his own consultancy in 2013, Strata GeoData Services, which has allowed him to broaden his scope and work with other companies and professionals. Strata GeoData Services has since diversified into three separate, but not exclusive, entities; SGDS Consult, SGDS Workshops and SGDS Hive. Andy also offers professional geological services and is the core of the business, working on a range of exploration and mining projects.
Andy currently sits on the Board of Directors for the Association for Mineral Exploration and is a member of several advisory groups and committees, including Engineers and Geoscientists BC, Geoscientists Canada and the Canadian Institute of Mining Geological Society. He also teaches winter semester courses at the British Columbia Institute of Technology, specifically related to First Nations, Sustainability and Mining Law.
DEREK TURNER,
 DIRECTOR
Derek is a geoscience educator who is passionate about inspiring students and the public to see how geology and mineral exploration are important to their daily lives. He is an advocate of getting people outside to experience geology first-hand and of using technology and open educational resources to make geology more accessible to the public.
When he isn't teaching, Derek consults on terrain and surficial geology projects for infrastructure and resource development across western and northern Canada and researches the timing and causes of Pleistocene glaciations in the Canadian Cordillera. Derek currently teaches and is the Chair of the Earth and Environmental Science department at Douglas College.
DAVID WILKIE
  DIRECTOR
David has a passion for environmental science and has had the opportunity to work in both the academic and private sectors developing expertise in environmental education. currently employed as a science teacher with the Vancouver School Board at the University of British Columbia Transition program. This is a provincial resource school administered by the Vancouver School Board for students identified as gifted and earning early entrance to university.
David loves the outdoors and has performed field work as an Environmental Scientist in the Canadian High Arctic, Yukon, Northern Alberta and British Columbia. These experiences environmental monitoring of chemicals in abiotic sources as well as management of invasive species on industrial and restoration sites. David completed his degree in Education at the University of British Columbia and holds a Master of Science in Ecology and a Bachelor of Science in Chemistry from the University of Alberta. His passion for science education has included working for the Vancouver Aquarium AquaVan program where he engaged with rural communities around B.C. and Alberta. These experiences teaching philosophy and pedagogy draws from hands-on inquiry based student centered teaching
Staff
Jennifer Sly: Coordinator
Jennifer's experience in adult education, client services, operation management and event planning have been combined in her position as the coordinator at Below BC.
Jennifer graduated from Simon Fraser University with a degree in History and English. She has spent time living in the United Kingdom and Japan.
Jennifer has a genetic predisposition to rock collecting. Her childhood was spent hanging out with her dad hiking and going on beach walks resulting in pockets bulging with rocks and shells. Family trips included visits around B.C. and to many U.S. National parks including Needles, the Badlands, Arches National Park and Devil's Tower National Monument.
Jennifer has been known to mail one or two boxes filled with rocks back from various vacation spots. Please don't ask her what her favorite rock is!