What Is Below BC?
Below BC is a non-profit society created in 2015 on a quest to bring geology and the broader earth sciences alive for the public through education and a variety of media.
We are a group of professional rock-hounds and storytellers sharing our love of geology and the earth sciences in a way that will encourage the public and inspire them to step outside, into our amazing province, and learn what is under the ground we walk on.
In 2019 we were granted funding from Geoscience BC to undertake a Province-wide heritage survey, which led to the creation of an interactive  "Digital Museum" of rocks, minerals, fossils and artifacts from British Columbia!
Interactive Map of British Columbia
Our digital museum uses an interactive map of British Columbia to navigate around specimens in the collection. Each specimen then has an interactive 360-image, plus more detailed information about it.
In addition, we have added layers to the map, such as BC Geology, which allows users to learn more about the geology on an area. Each unit can be selected and a pop-up balloon provides more information such as rock types, ages and dates.
Educational Earth Science Collections
We have built a teaching collection of over 2,000 specimens that are ready to be used when talking to the public.
These specimens have been donated to us, found during field work or purchased, and cover a wide range of mineral, rock and fossil varieties, with a few oddities thrown in too!
We have been gradually consolidating "lost" collections too – which are specimens from peoples private collections or museums and other institutions that have no further need for the collection, such as the Museum of Vancouver.
Informative and Customizable Displays
When we visit public shows and spaces, we are able to tailor the displays to the audience, theme or proposed outcome for our host.
We use a simple system of heavy black paper to cover the display tables, and then our team will hand draw and annotate all the specimens to allow for a level of self-guided exploration. This allows the widest comfort level for even the shyest of audiences, but regularly leads to questions and more in depth conversations.
Every specimen has a story to tell, and this is a great way to do it!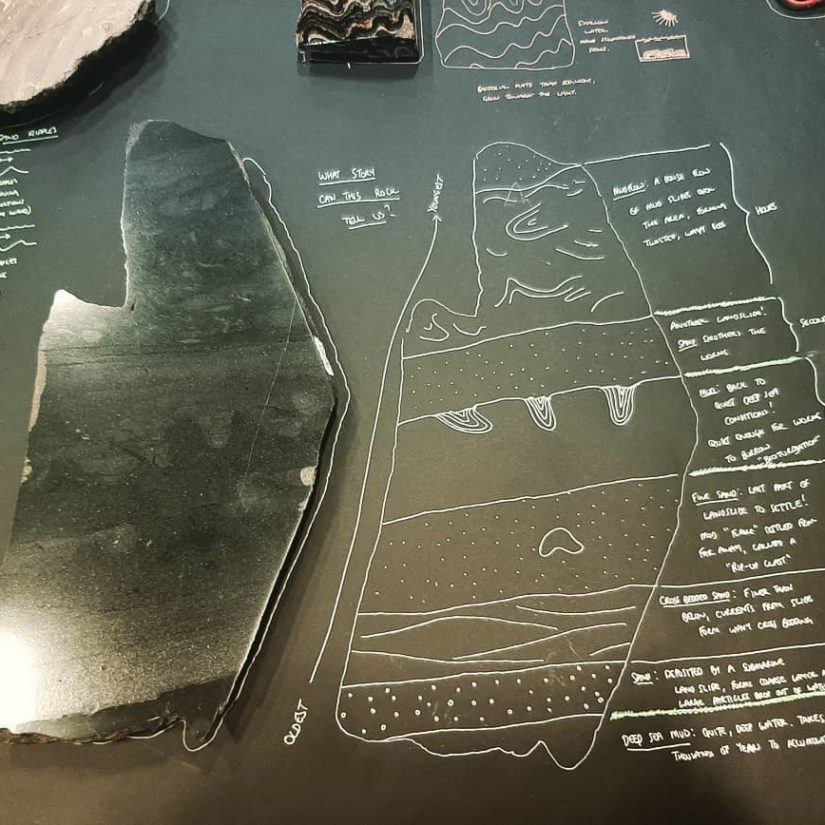 On The Road!
When we can, we love to take our displays and expertise on the road and into the communities we are working in! This is a fantastic way to give back to the community and encourage engagement.
This image was from our participation in the Sam Steele Day events in Cranbrook, BC. We just happened to be cruising around in a Jurassic Park themed vehicle, which became an attraction in itself!
Guided Field Studies
We have had the pleasure of taking the public out on several field walks in and around Vancouver. Our favourite spot is Kitsilano Beach where we can show people 50-million year old plant fossils that they are completely unaware lay under their feet!
We have hosted everything from camps with the Vancouver Aquarium, rock-hounding groups and school parties from across the Province on these day trips. Sometimes we just show them the geological features, and sometimes we will actively teach a non-technical group on how to collect data so we can continue to build our knowledge of this site.